A while ago I promised to post about the fancier circle skirt I made. Well here it is:
I made this out of blue taffeta, not silk unfortunately, but acetate. I got the fabric on sale last Christmastime for really cheap. Its a good thing too because as I stated in my other circle skirt post, this skirt takes almost 4yds! To remind you here's the pattern I used: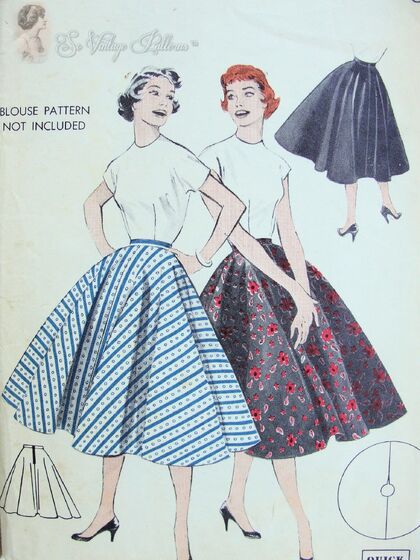 Its Butterick 7257 from 1955. Overall I really like this skirt, its light and appropriate for winter parties, concerts, the symphony, etc. But boy does it wrinkle. To take these pictures I had to do some serious ironing, and it was still wrinkled. Here's a photo with a petticoat underneath:
The actual color is between the first and third photo. The geniuses that built our apartment apparently thought a light fixture in the living room wasn't necessary.
On me with the petticoat it looks a little something like this: (the puffiness anyways)
image courtesy myvintagevogue