Last year, during our beach vacation in California, I found this pattern in an antique store in Cambria: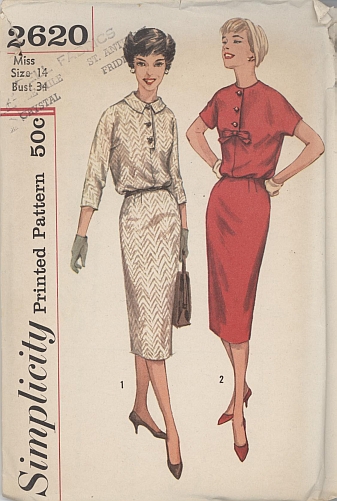 It was only $4, And all the pieces were there, And the instruction sheet! Most vintage patterns on Etsy aren't even that cheap.
It was a size 16, so a 36in bust, which is my proper size, well, except for the waist and hips. I had to "re-size" the pattern from the waist down. I used Gertie's help instructions for re-sizing vintage patterns found here:
http://www.blogforbettersewing.com/2010/06/vintage-pattern-sizing.html
.
So I sat on this pattern for over a year, making other things when I had the time. A month ago I decided why not? I dug through my fabric stash, not able to decide on anything, when I remembered I had kept some twin-size bed sheets, intending to use them as fabric at some point. They were my bed sheets when I was an undergrad sleeping on a small lumpy bed in a room without padding under the carpet. Ah, the good ol' days, not!
So this dress presented me with a few new challenges. First of all: the buttonhole. Oddly enough with all the things I've made I haven't had to do any buttonholes. Lots of "invisible zippers," but no buttonholes. I practiced a lot on scrap fabric before I sewed them onto the dress.
Another thing was the stiff, i.e. interfaced collar. This wasn't hard, and I must say, I like the effect. While sewing it I realized why some collars on shirts you buy are wrinkly and don't stand up: no interfacing. My husband always complains about Old Navy shirts being this way. I must say, unless they are using a really, really, thin interfacing, there isn't any in their collars.
Lastly, I learned the french tack stitch. What is that you may ask? Look on a men's tie. See the single but thick stitch on the backside of the tie where the seams meet? That's it, a french tack stitch. Super useful. I learned how to do it from FashionSewingBlogTV in this youtube video:
http://www.youtube.com/watch?v=8TP8rgH37Qo
In the construction of this dress it is used to attach the lining to the dress.
All in all, I like this dress. With a belt it looks pretty good. I like it with a thicker belt than the pattern suggests though.
Here it is:
Image courtesy of wikia