Last year I made a circle skirt from this 1955 Butterick pattern: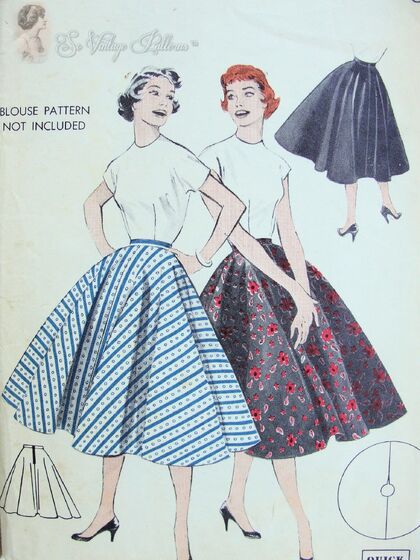 I bought my copy off Etsy for about $10. Pretty good price considering the price of reproduction vintage patterns (well, except Burda they're always nice and cheap).
I used a linen fabric I got on sale at Joann's. Its pretty soft for linen, didn't even need to line it (not that the pattern calls for it).
Here's a close up of the print of the fabric:
For anyone who's thinking of making a circle skirt, let me tell you: it takes more fabric than you think! This skirt in my size took almost 4 yards! Circle skirts are huge! When you lay one out flat on one side it forms a semi-circle. Open it up and Volia! A full circle.
The circle skirt was en essential part of a women's wardrobe in the 50s thanks to Dior's New Look. You could wear it puffed out with lots of petticoats, or without. A lot of 50s dress pattern adopt the circle skirt for the bottom half of the dress. It was very popular!
An advertisement for Cherry and Webbs. See the full circle of her skirt? Doesn't seem like she's wearing a petticoat, or at least not a very full one.
And again, another advertisement:
Get a load of the full effect (i,e, with petticoat) here:
See how the full skirt accentuates the waist making it appear smaller? (Granted, these models are already tiny) The circle skirt is also very versatile, appropriate for causal as well as formal wear.
The one I made was rather causal, and more or a summer, or spring skirt. (I'm making a blue one out of taffeta, so stay tuned for that!)
As far as the actual construction of the skirt, its very easy. The pattern I got has two pieces: the half circle piece and the waistband. There are only two seems (at the sides), a zipper, two hook and eyes, and some interfacing inside the waistband. This is definitely a good project for the novice vintage sewer! I must warn you though, the hemming takes FOREVER! Not surprising, but still, when your sewing machine is buzzing away and you realize you're only halfway there….gees.
Images courtesy of myvintagevogue