Soon is a relative term. But hey, under a week isn't bad, right? Before my promised post about the transition from the hoop skirt of the 1860s to the bustle of the 1880s, I must report on my progress on Vogue 2401. So far I've cut out all the pieces, including interfacing (a sew-in one this time), and lined the bodice pieces. Although the pattern doesn't call for the bodice to be lined, I really think it should be lined if you're using a silky, somewhat thin, material like I am. This has taken quite some time, more than I anticipated. But this part at least is done. Now I can actually start constructing the dress!
On to business...
For a while now I've been interested in how women's fashion got from the humongous hoop skirts of the 1850s-60s to the bustles of the 70s and 80s. How, I ask myself did we get from this:
(Englishwoman's Domestic Magazine, 1862)
To this:
(Philadelphia Museum of Art 1875)
Well I found my answer thumbing through Janet's Arnold's Patterns of Fashion Vol. 2.
The answer? The gored skirt.
Gored skirts, its turns out are very versatile. They could be used to create the hoop dresses of the civil war era, (provided a crinoline and/or a hoop was worn) or a nice transition dress this like one: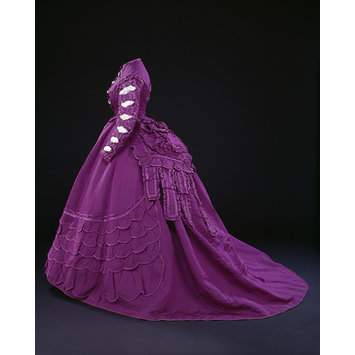 (V&A, 1869-1870)
The difference, aside from the undergarments, would be the shape of the gored panels. A full-blown 1860s dress would have gores that looked more similar in length and overall shape. The transition dress of the late 60s/ early 70s would have had longer gored panels for the back train of the skirt. The front panels would be shorter. This, at least, is what I have ascertained from Ms. Arnold's wonderful sketches in PoF. This it seems, is a trend that carried over into the bustle period. So there ya go, mystery solved!
Now, back to the 1950s!